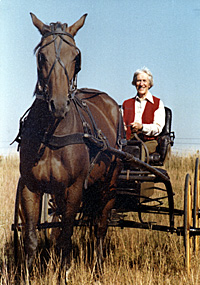 Some years ago, a few of us wanted to know when Marjorie Barstow's birthday was - she wouldn't tell us - and we wanted to be able to surprise her. During class one day, I was dispatched (a selection made by the reset of the students) to find her driver's license and, hence, her birthdate. I hope I read it right - I was in a bit of a hurry - for after that, every August 25th , we celebrated her birthday. (Easy for me to remember as this day is also the date my mother was born - perhaps the two of you can party together in the world you are now in.)

Each day I am grateful for her and grateful for her teaching.

In looking for something she said to post today, I found Robert Rickover's reposting of this aphorism from Direction Magazine -

I can't teach anything that I haven't done myself. I may not always do it, you know we don't always do what we should (life would be very dull if we did). But I know when I want to have more freedom, I know what I can do and what I must do, then I make the choice of whether or not to do it.