IN THE NORTH SEATTLE STUDIO: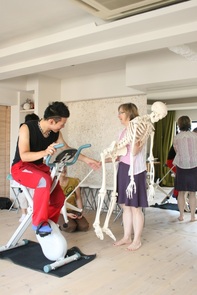 Weekly Classes
Workshops
Private Lessons (including Skype Lessons/Coaching)

A wide range of learning options is available at Cathy's North Seattle Location. There are weekly classes, weekend workshops and private lessons. Students who are interested in becoming an Alexander Technique teacher design their own program from the available options. For the most current schedule and rates, please see the Current Schedule Page or Contact Cathy.

---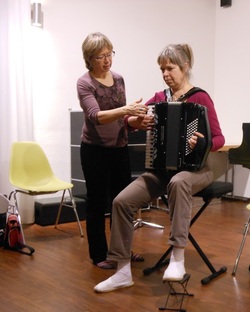 "Teaching performers is about applying this work to highly skilled excitation in service of the extra-ordinary."
(from Cathy's Keynote Address for the Alexander Technique and Performing Arts Conference, Melbourne, 2012.)

Madden's ability to combine the Alexander Technique with the performance/communication skills needed by Actors, Dancers, Musicians, Singers and Professional Communicators (including speakers and singers) of all kinds is her particular specialty. This coaching may be part of all classes,workshops, and private lessons in the North Seattle studio. Cathy also occasionally teaches specialty workshops for particular needs.


---
Alexander Technique Teacher Training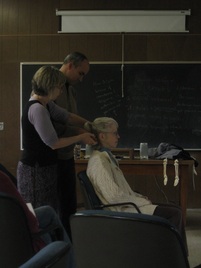 Apprenticeship-style Teacher Training In Seattle

Cathy's approach to Alexander Technique Teacher training developed from how she learned to teach. She took classes with Marjorie Barstow, watched her teach whenever she could, read books, and studied anatomy. "Teaching" as one of her activities in regular classes was the way she developed the skills she needed.. After some time, she began to teach under Marjorie Barstow's supervision, and ultimately became an Alexander Technique teacher.

This way of learning to teach the Alexander Technique is flexible—the pace and the schedule is entirely up to each individual. Madden is a resource and a guide.

Students who are learning in this way have a variety of options for learning: weekly classes, weekend workshops, occasional week-long intensives, and observing Madden teaching other classes. She also coaches Skype lessons and have done some supervised teaching on Skype. Some students have assisted me in University classes as part of their study. Private lessons and small group classes arranged by the student may also be part of the plan for study. Students may also take workshops with other Alexander Technique teachers. Certification as a teacher is available through Alexander Technique International (www.ati-net.com)


---
Friday Harbor Annual Residential Workshop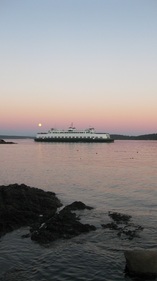 Cathy Madden's Intensive invites you to rediscover your coordination in a natural setting that reflects and amplifies your intention. Classes meet for 3 hours in the morning and one hour in the early evening allowing everyone time to explore San Juan Island—-hiking, whale watching, kayaking, ferry riding, artwork, and just reading a book on a beach. The class is limited to 15 people, and is customized to the needs of the registrants. Come renew yourself in the Pacific Northwest!

The workshop Is at Friday Harbor Marine Science Labs--a gem in the islands off the coast of Washington. http://depts.washington.edu/fhl/

2013's dates are August 23-28 (with a possible extension to Sept. 1)


---
IN NORTH SEATTLE AND MULTIPLE LOCATIONS: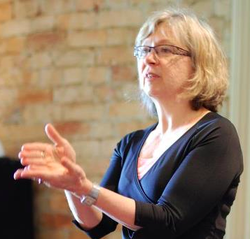 Specialized Workshops
Guest Speaking
Corporate Applications
Science and the Art of Communication Workshops
Madden is available for speaking engagements and workshops customized to your group's needs. In addition to workshops for performers of all kinds, Madden has taught corporate workshops combining the Alexander Technique with communication skills to give managers more skills to respond to "stress" in the workplace. With Ph.D. student, Alyssa Gehman (The Odum School of Ecology, University of Georgia), Madden is developing a workshop, Science and the Art of Communication, designed to give scientists an effective, repeatable, step by step process to communicate their work clearly and effectively to a wide variety of audiences.


---
ON THE ROAD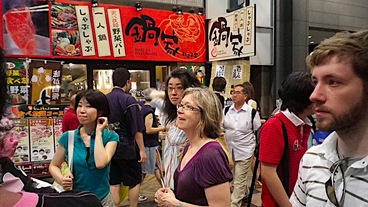 Conference, National and International Opportunities

Overseas trips to Australia, England, Germany, Japan, Scotland, and Switzerland as well as presentations at national and international conferences are part of Madden's annual schedule. The calendar page has the most up to date information. For information on these tours, or if you would like to organize a visit to your location, please contact cathmadden@aol.com

---