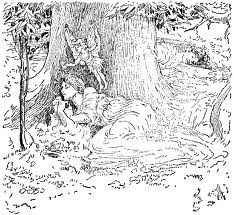 Never Mind About That…



This phrase is one that appeared at specific moments in my studies with Marjorie Barstow. She seemed to use it when someone had thoroughly analyzed a particular response/behavior and had previously been able to solve the "interference" with a constructive coordinated response. In the moment of the lesson, what was needed was a reminder that "you know what to do."

Once I was doing a monologue in one of her workshops – Hermia from A Midsummer Night's Dream:

"Puppet? why so? ay, that way goes the game.
Now I perceive that she hath made compare
Between our statures; she hath urged her height;
And with her personage, her tall personage,
Her height, forsooth, she hath prevail'd with him."

As I described to Marjorie how I was interfering with my ability to do the acting – worried about not being loud enough, not being excited enough, not being funny etc. – all things that I had worked through before, she just stopped me, suggested that I "never mind about all that, just use the Alexander Technique and do what I knew how to do." It worked very well.

I use that phrase when I am teaching in the same kind of situation. The phrase doesn't help when students haven't done the homework about what is going on; but when they have, it reminds them to use a bit of "will" to do what they already know how to do.

It is a phrase that I also used for myself when I began to teach with Marjorie in London after the Second International Congress of the Alexander Technique. While those of us who studied with her knew how rigorous learning to teach the Alexander Technique with Marjorie Barstow was, we were outsiders in London. The people taking the workshop didn't know (and perhaps some still don't know) that she was an exacting taskmaster regarding teaching.

Before the first group that I taught there, I was fussing at myself – worried that I wouldn't represent Marj well, worried that people might get angry, that I wouldn't find the right words etc. etc. Then I recognized what I was doing and said to myself, "Never mind about that, do what you know how to do…." It worked very well.

I had been preparing for years for that day. I suppose that one of the values of being considered an "outsider" was that I took responsibility and take responsibility for bringing my best work to the teaching room every day. The quality of what I do, of what I invite my students to do, is my substitute, if you will, for being an "insider."

It is also what Marjorie Barstow insisted on when she taught me to teach. "You are teaching as soon as your student sees you." If you wanted to teach, you needed to "delicately insist" that you consistently met the teaching moment with constructive consciousness.