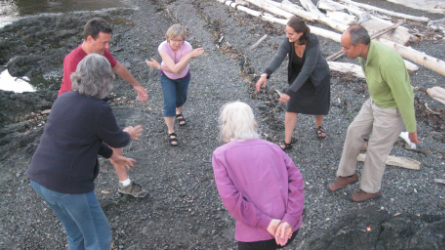 Registration is open for my annual residential on the San Juan Islands off the coast of Washington. This picture is from one of our outdoor classes. Our dates are:
August 23- September 1, 2015
Three Options
Full Session August 23 –September 1
Main Session August 23 to August 28
Extension August 29 -September 1

Renew and rediscover the joy of a cooperating coordination in a natural setting that reflects and amplifies your intentions.

Classes meet for 3 hours in the morning and one and one half hours in the early evening, allowing everyone time to explore San Juan Island—-hiking, whale watching, kayaking, ferry riding, artwork, or just reading a book on a beach. The class is limited to 16 people, and is customized to the needs of the registrants. Come renew yourself in the Pacific Northwest!