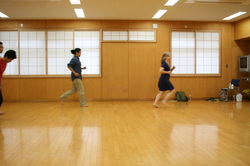 Tomorrow I will be flying home from Japan after nearly a month of intensive teaching.

And the heroes and heroines of the trip are my translators!

Without them, I would still teach something – but the depth of the interactions would be limited as we all attempted communication in various forms of mime and Japlish.

Ken, Naoko, Shigeko, Isuzu, Yasuhiro, Michiko, and Kanae –as you know more deeply than I – words are an approximation of meaning. My gratitude for your contribution to my ability to invite people to new ideas is splendiferous.

As this picture of Ken in the act of translating for me illustrates, it can be quite a task to be my translator!